Colorclasm is a newly arrived item and sure to be an instant hit. This item features knock your socks off colors.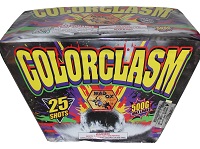 Colorclasm is made by Mad Ox Fireworks. Mad Ox is an exciting brand of fireworks that has taken the fireworks world by storm. This brand features some awesome products have have become instant classics such as the Raging Bull 5 inch Artillery and the massive 6 shot Finale Rack with real professional fiberglass mortar tubes. What an innovative brand to come up with these killer products! Colorclasm will join the ranks of Raging Bulls and become a classic for its super bright and rich fireworks colors!
Colorclasm is a 500g fireworks cake, or aerial repeater. 500 grams is the maximum power weight allowed by USA law for any consumer fireworks. 500 grams is over 1 pound of powder! Colorclasm has 25 shots. Each shot is a mini mortar shell. They work just like regular mortar shells or cannon balls. The shot is propelled out of the tube by a shot of gunpowder. The shot has a "delay fuse" that allows the shell to rise high into the air. Then after 2-3 seconds the shell burst open in a spray of amazing colors. What makes this item so exciting is the EXTREME colors. How can Colorclasm make these bright and rich colors? What makes Colorclasm different from other fireworks on the market? The secrete is the chemical formula used to produce the amazing colors. Mad Ox uses special formulas and chemicals that are high in Chlorine Donors. Why Chlorine? Chlorine helps to create the short lived chemical species that best emit colors. These chemical compounds are not stable at normal temperatures and thus is why fireworks must burn to produce colors. so needless to say, someone "scienced the heck" out of Colorclasm to get these amazing colors!
Remember to place your order early and allow extra time for delivery. Since fireworks are considered "Haz-Mat" in shipping they can't be flow on aircraft and require more time for shipping. So order today, don't delay!