Diwali is the festival of lights! It is India's most widely celebrated Hindu holiday.
The celebration consists of lighting of lights, candles, firecrackers, and diya (clay lamps) to symbolize light triumphs over dark, knowledge prevails over ignorance, and good triumphs over evil. This is accompanied by family visitations and enjoyment of delicious food.
Generally, Diwali is celebrated over five days.
Day 1: People will clean the house, go shopping, and make sweet and savory Indian treats.
Day 2: People will decorate their homes with rangoli (colored patterns made on the floor with flowers, powder, rice or sand), and diyas (clay lamps) are displayed.
Day 3: People dress in new clothes, visit the temple to perform a puja (a worship service), light diyas, keep all the lights on, eat delicious food and sweets, and enjoy fireworks with family and friends.
Day 4: This is the first day of the new year for many regions and people celebrate by exchanging gifts and best wishes.
Day 5: This day is set as a siblings day to honor sister-brother bonds. It is common for siblings to get together. Brothers will visit their sisters and enjoy a nice meal together.
To celebrate, US Fireworks has an abundance of fan favorite fountains to light up your Diwali celebrations!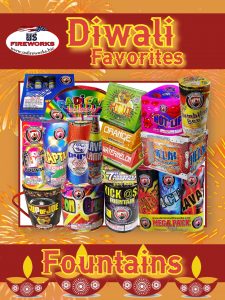 Check out these honorable mention fountains or our catalog for more!