Ok admit it, you spend way too much money on fireworks!
That's right the very fact your reading this means you have smelt the smoke…there's no turning back! Let www.usfireworks.biz help you learn to shoot a professional style display right in your own backyard with consumer fireworks with this blog series.
Let's start with a simple introduction, between now and the 4th of July we will post frequent updates from the very basics such as safety, fusing tips, how to set up angles boards and eventually discuss firing highly technical pyromusicals with professional firing systems. Your welcome to follow along and decide what level you are ready for…a great backyard display can be achieved for less than you might think!
Here is two example videos of the ends of the spectrum we will cover. This first video is a simple angle board a customer shot on New Years Eve:
And here is a video of a 6 minute pyromusical (which usfireworks.biz supplied product for) shot at last years NFA convention by Dominator Fireworks.
Today we will discuss how to achieve a display as seen in the first fireworks video above, which can be accomplished for under $200.00!
That quick show was fired on New years Eve off of just one angle board as seen in this picture.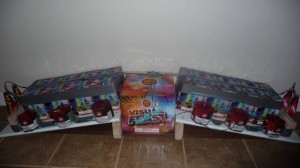 As you can see an angle board can easily be constructed from scrap lumber, likely you have what you need in the garage right now! A 2×4 on edge is all that is needed, and recommended for the angle this gives the fireworks plenty of separation in the sky to achieve the "V" shape with the smaller cakes firing, with the larger 500g cake firing straight up the center of those.
The fuse used can be purchased on the web and is simple to obtain, we will go more into depth soon about fusing techniques for guaranteed firing of all items. The goal of an angle board is simple, to create something interesting, and symmetrical in the sky…we highly recommend for the smaller angled cakes you use a cake with colored pearls or tails such as the 200g cake Backyard Perfection as it rises to add another dimension and really show off that "V" effect you want from an angle board.
It is very important that you secure the fireworks to the board! We recommend either, liquid nails, silicone or even heavy duty duct tape…just make sure they are stuck good and cannot tip, and also make sure if they do that nothing is in range!
Did you even finish reading this….or are you out in the garage looking for scraps to make your first angle board? Get it done and check back the 4th will be here before you know it and we have a lot of work to do if your gonna show up the city's display this year!
Next we will talk racks and fusing….
Hey pyro's! Let's talk racks. Racks is a general term for any device designed to SAFELY and securely fire a firework device. The standard cardboard, fiberglass and even HDPE mortars that come with re-loadable shell kits work great, but we have all seen them tip over while firing the shell and their uses is very limited before they are ruined. There is actually a new law that now requires the large canister shell kits to come packed with 4 mortars now! Here is a picture of a standard consumer rack for firing 1 3/4″ re-loadable shells which includes the majority of all shells sold in the USA, with the exception of the smaller black box and festival ball kits which are closer to 1 1/2″ and we do not recommend using those in these mortars as they may fit too loosely and not get proper height. The rack in the picture below is commonly combined with other racks, and/or stabilized with rebar rods to prevent tipping.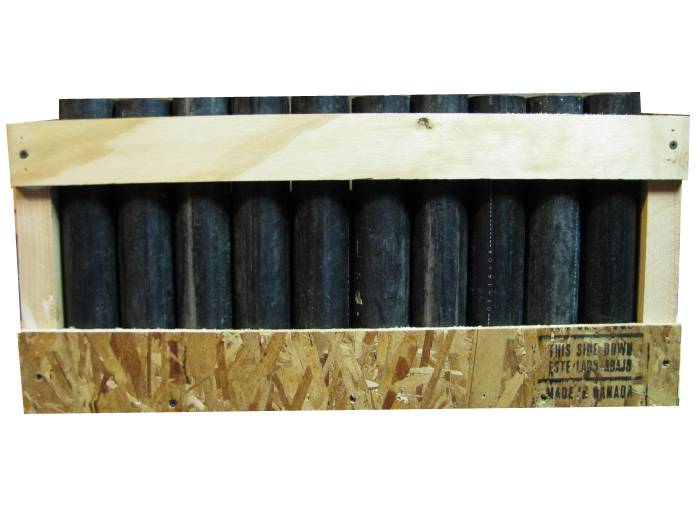 Too many people only think shells when discussing racks, when they actually have uses for a variety of fireworks! Here is a cool candle rack we found a picture and video of and is a great example of how someone used a creative rack idea to take a boring old roman candle and turn them into something awesome! They cleverly used plywood and inexpensive conduit clamps to safely hold the candles.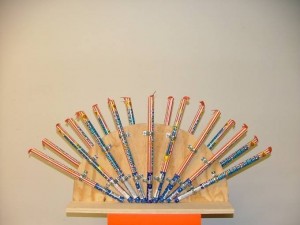 Here is the video,  you can see sticky match was used to fuse the candles to all go off, we will cover sticky match and fusing more in the next update.
In the image below we see someone got creative with perforated angle iron (commonly used for garage door opener installations) and made a rocket rack, another inexpensive yet innovative idea! This is a much safer alternative than bottles or PVC pipe for firing rockets, we really would not recommend either. It looks like there's 2 sky rockets loaded and waiting for dark. Click here and check out our selection of Sky Rockets.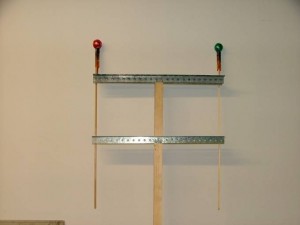 Check back soon for an update on fusing techniques to put all these ideas of angle boards and racks together and ready for an actual show, that you can sit back and enjoy with your audience! For those reading this blog, here is an unadvertised special on 1 1/4″ high quality fiberglass mortars to fill the racks you need to build, At a price we guarantee you won't find at any other discount fireworks or online fireworks stores! FIREWORK MORTARS Getting excited about the 4th of July yet?