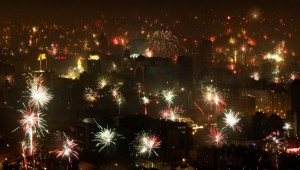 Chinese New Year Eve in Beijing is about the biggest fireworks celebration in the world.  The Chinese do know how to celebrate!
WOW!  Just after midnight (the peak of fireworks use) the results go off the scale!  Luckily its back to a comfortable Unhealthy reading by noon!
»
See Live updates from the US Embassy Beijing Air Quality measurement station.   2 PM Air Quality is Moderate at 57.   9 PM Air Quality is Very Unhealthy at 243.
»