Part 2 - China Factory Photos Showing how Saturn Missiles and Whistling Bottle Rockets are Manfactured
This is part 2 of 2 of how Saturn Missiles, Whistling Bottle Rockets, and Whistling Gemini are manufactured in China. Re-published with permission of
Dominator Fireworks.
Goto Part 1 -
Saturn Missile Factory Part 1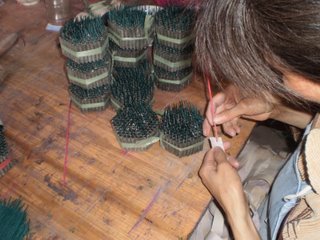 After the plastic tubes are made, they are then sent to the loading area to be loaded with whistle composition. Sometimes other pyrotechnic compositions are added as well to make the tail have different effects. For example, there are now Color Tail Saturn Missiles, Crackling Tails, and Tails to Report.
The photo above shows the individual missiles being loaded with fuses. These missiles will be used on rockets that are designed to hand launched one at a time. The worker is using a small stick to stuff a square of paper into the tube and hold the fuse in place.
In the photo below, these same missiles are now being glued to rocket sticks. The label serves as the method to hold the missile to the stick. Now these are packaged in groups of 12 rockets with another plastic label. Then 12 of these packs are wrapped with clear plastic wrap make a gross of Whistling Bottle Rockets.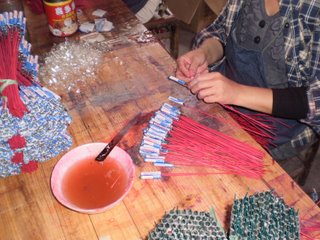 Whistling bottle rockets use sticks to stabilize the flight. Saturn missiles are launched from a small tube and that tube provide launch stabilization for the missile.
In the photo below, you can see a worker using a sharp awl to punch a whole for the fuse to go through.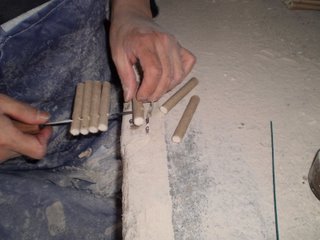 A long single fuse is then fed through each of the tubes as in the photo below.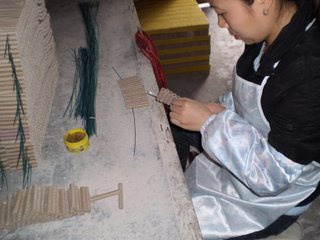 Next the rows of tubes are glued together to make the body of the Saturn Missile Battery.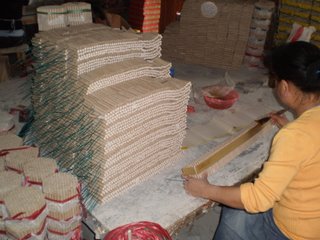 Now the individual tubes are loaded with missiles one by one.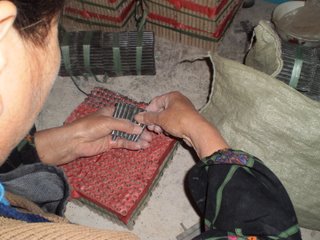 The last step is to cover the batteries with the colorful label and add a waterproofing plastic wrap.
As mentioned before, the same small plastic missiles are used for several products.
The photos below show the missiles being used to make the Whistling Gemini rocket.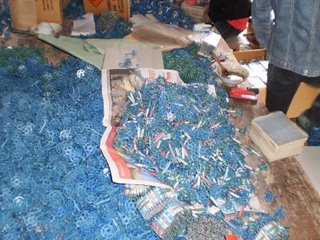 Here the photo shows the fins being added to the missile tube.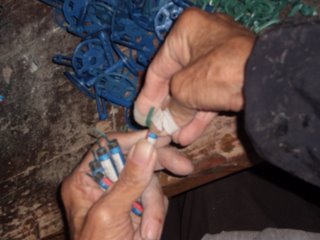 Here is a photo of the finished item. The items will now be tested and then packaged for shipment.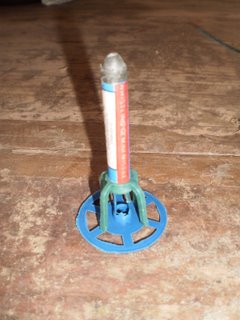 And finally the items packaged and ready for shipment.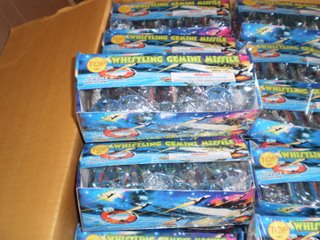 posted by US Fireworks Online Superstore at 6:08 PM