Best 200G Cake for the Money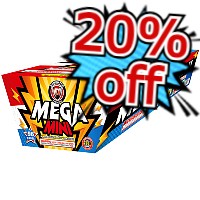 Today I want to
introduce
you to a fantastic little cake made by
Dominator
Fireworks called
Mega Mini
.
Dominator
is a rapidly growing fireworks brand that really puts a focus on quality. The cake is less then 1/4 of the size of a regular 500g cake, however this little cake can compare in performance to some of its big brothers.
The price of the item is $13.14. Not the cheapest item on the website, but with 96 shots its a real
bargain
.
What makes this a great cake for me is that it really fills up the sky and has some fast action finale shots at the end. Also, it lasts a little longer then most cakes of its size.
The cake features what we call a slow zipper effect, meaning color pearls zip across the sky one after the other. In addition to the color, there is a little crackle mine included in each tube to help fill out the effect. Then the last several rows of the cake fire all shots at the same time to really fill the sky and produce a crackling finale effect.
Check out this
fireworks video of

Dominator's

Mega Mini
to see the cake in action for yourself.
If you are designing a small
backyard
or community show, this is a great cake to use in what we call a FIREWORKS FRONT. A Front is when you put two or more cakes in a row facing your audience. The effect of a Front is to create a wall of fire. Place your cakes anywhere from 20-50 feet apart and the effect will be a beautiful crisscrossing pattern.
This cake can also be called a comet cake or a mine cake, because its effect start at the ground and fill the sky up to mid-level. So to really make your front effective, try firing a vertical cake like
The Detonator
or
Rip The Sky
behind the Mega Minis. This will fill the sky from the ground all the way to the highest levels, giving your show a true professional appearance. In fact, if you stick with quality products, and design based on some of the principles that we will be discussing in future articles, I can almost
guaranty
that you will start to get complements like "That Was Even Better then the Town July 4
th
Show!!"
Please feel free to leave a reply. We are Looking forward to writing our next post and hearing all your comments on this one!
Team
USFireworks
posted by US Fireworks Online Superstore at 2:06 AM